The email channel is supported in both Batch Messages and Automated Messages. Once you create a new message and choose the email channel, follow the steps below to create the email message content.
Add Message Header
Fill out the required fields to complete the message header.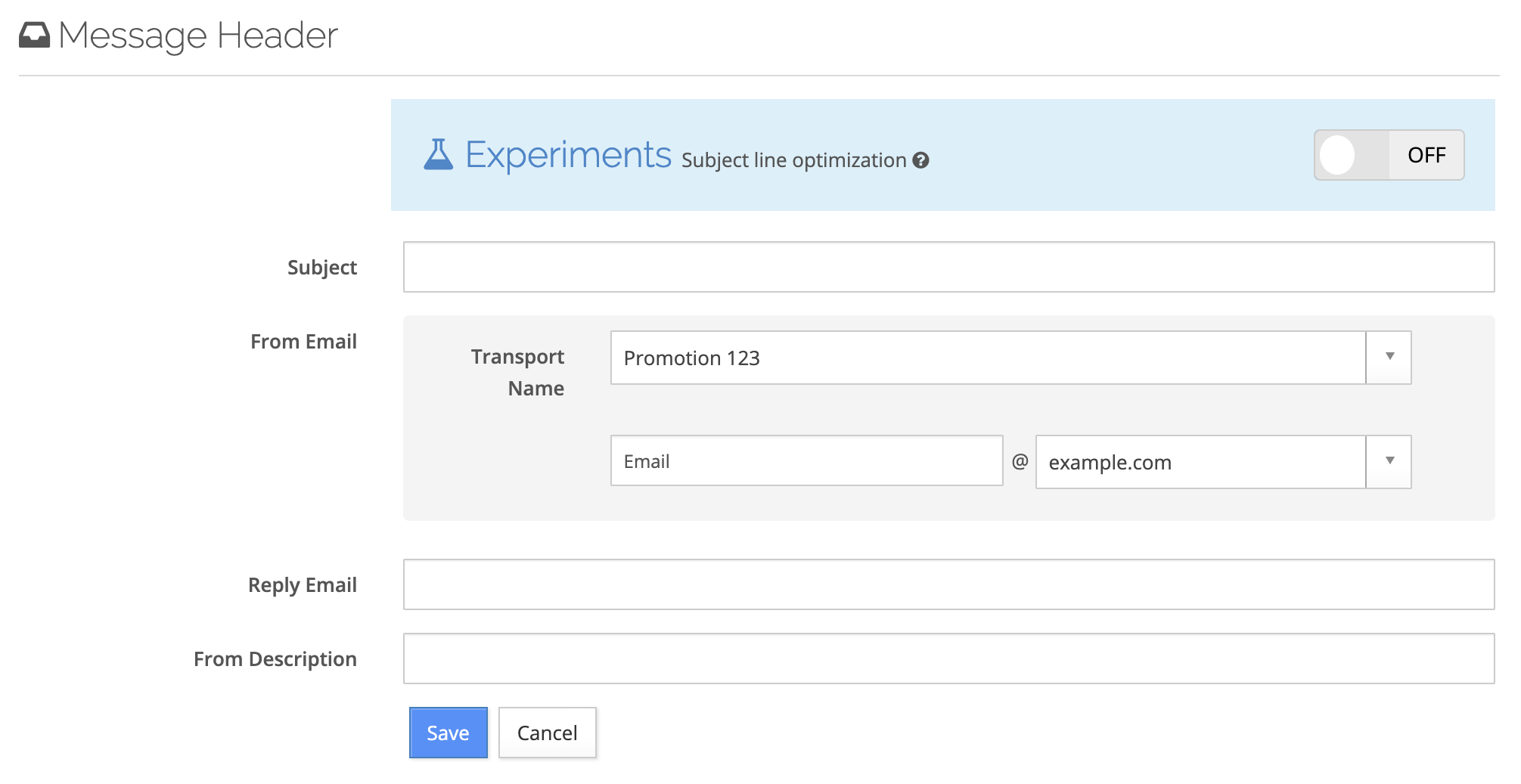 Subject line - The subject line for the communication. To test different subject lines, read about subject line experiments in batch messages.
From email - The email address that the message is from. Available sending domains will be determined by the message's Promotional or Transactional classification. Learn more about message transports

and how to set Message Header defaults for new messages.

Reply email - The email address that message replies will be sent to. This should be a monitored address such as a customer service email address.
From Description - Describes who is the sender. This text will show in place of the sender's email address in the email client's (gmail, yahoo, etc) message list. This is usually the name of your business or company.
Add Message Content
Message content is added differently depending on the the editor selected when creating a new message. There are 2 editors available:
HTML editor - for use when you want full control over the message code (HTML, CSS and Smarty personalization). This editor is idea for more advanced code editing as well as writing advanced personalization.
Sculpt editor - for use when creating drag and drop layouts without the need to write any code. Learn more about the Sculpt templates, blocks and messages.
Note that the Sculpt editor option will only be available if you have a Sculpt template created in your account.
Previewing a Message
You can preview message content by clicking the Preview button above the message content. This will give you the option to see the message in both desktop and mobile views.
For messages with responsive design, you can view different viewport sizes by dragging the preview pane.
View dynamic and personalized message content in real time by entering the contact's email address in the search field. For example, you could show a different image based on a contact attribute of "gender".
Depending on your account setup, you may notice multiple contact identifiers in the Preview As modal, such as email and contact ID. The modal will display primary and secondary contact account keys enabled in your account, giving you more than one way to search for contact profiles when previewing message content.
Note: When searching by the Cordial generated Contact ID (cID), the ID value must be entered as an exact match.