Overview
The mParticle integration supports Cordial as a Source, allowing you to pipe cross-channel engagement data from Cordial to mParticle, where it can then be routed to any of mParticle's integrations.
As events fire in Cordial, they are automatically piped directly to mParticle.
Configuration
The marketplace card for mParticle integration allows to configure contact, event and feed settings.
Feed Settings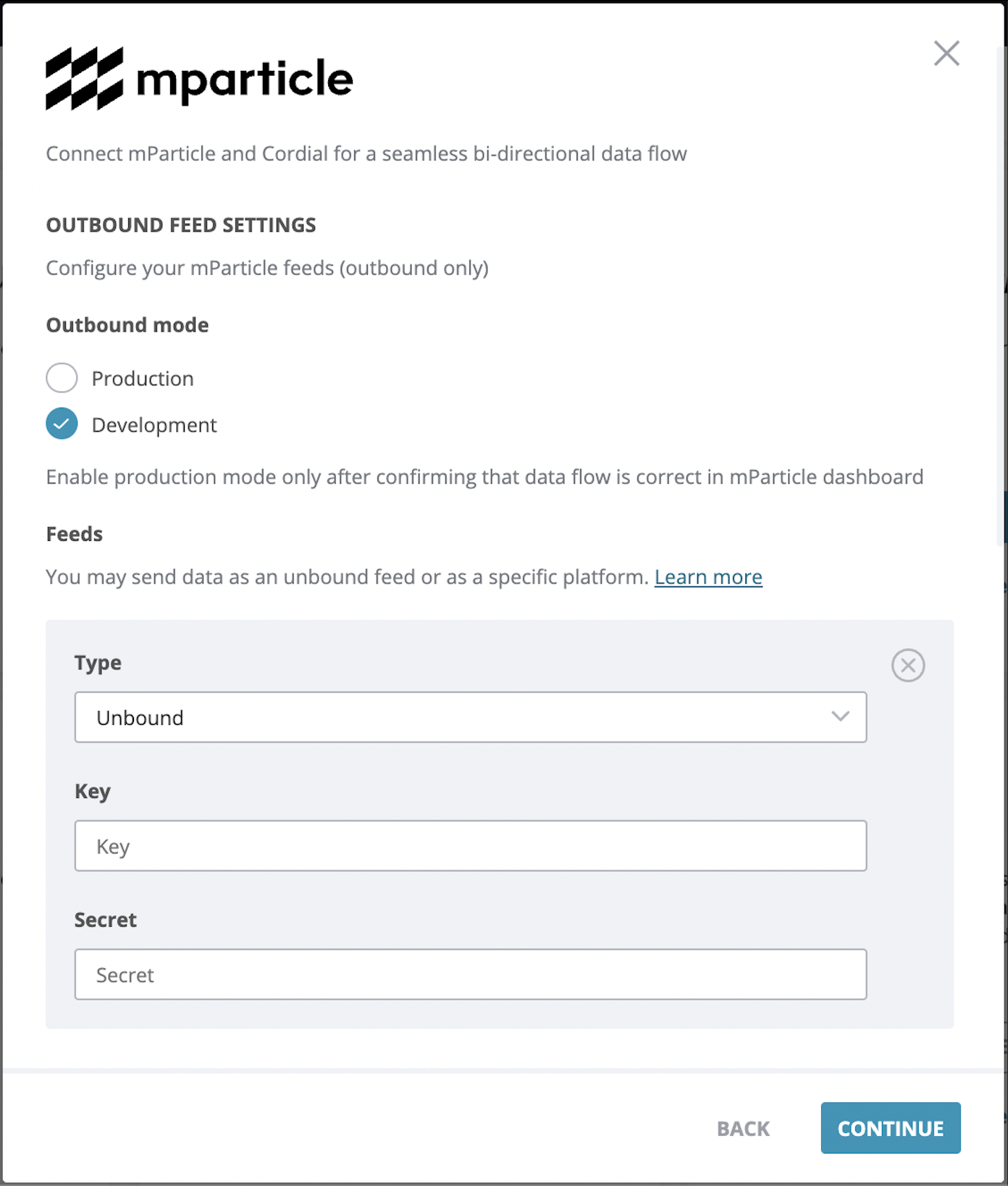 The marketplace card allows to configure one or more mParticle feeds that Cordial events will be sent to. Each feed is configured with a key and a secret which should be taken from an input feed configuration of your mParticle app.
Cordial can send events to mParticle to 3 different feed types:
iOS: predefined list of events generated by iOS SDK
Android: predefined list of events generated by Android SDK
Unbound: events not listed in iOS or Android feeds
If iOS or Android feeds are not available, their events are sent to Unbound feed.
All data sent into an mParticle feed must be marked as either "development" or "production". Set this to true in your test and QA environments.
Contact settings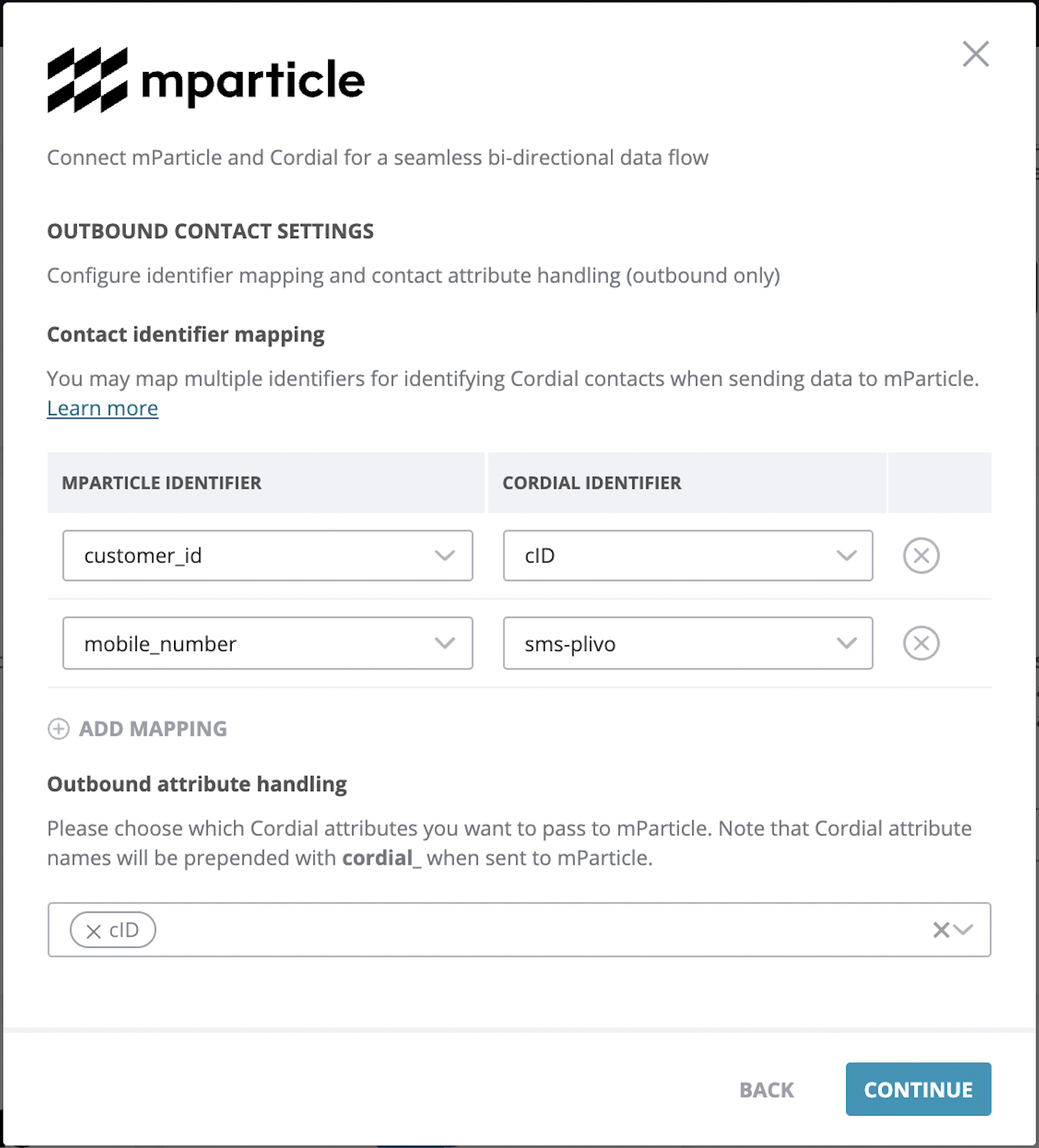 When sending events, it is possible to configure which contact data Cordial attaches to each event. A contact's cID is automatically sent as partner identity with each event. The following contact aspects can be configured.
Contact identifier mapping
This section allows to map Cordial cID and secondary identifiers to mParticle predefined user identifiers. Multiple identifiers are allowed. The screenshot above shows that cID is mapped to customer_id and sms_plivo attribute is mapped to mobile_number mParticle user identity.
Outbound attribute handling
Outbound attribute handling allows to specify which Cordial attributes to pass to mParticle as user attributes with each event. Available attributes are simple types: string, date, number and boolean. Additionally for each sms and email channels two fields are available: address and ss, which is short for subscribeStatus, for example: channels.channelName.address, channels.channelName.ss.
Following mParticle's recommended pattern, the attributes are prefixed with cordial_, when sent to mParticle, for example: cordial_cid, cordial_firstname.
Event Settings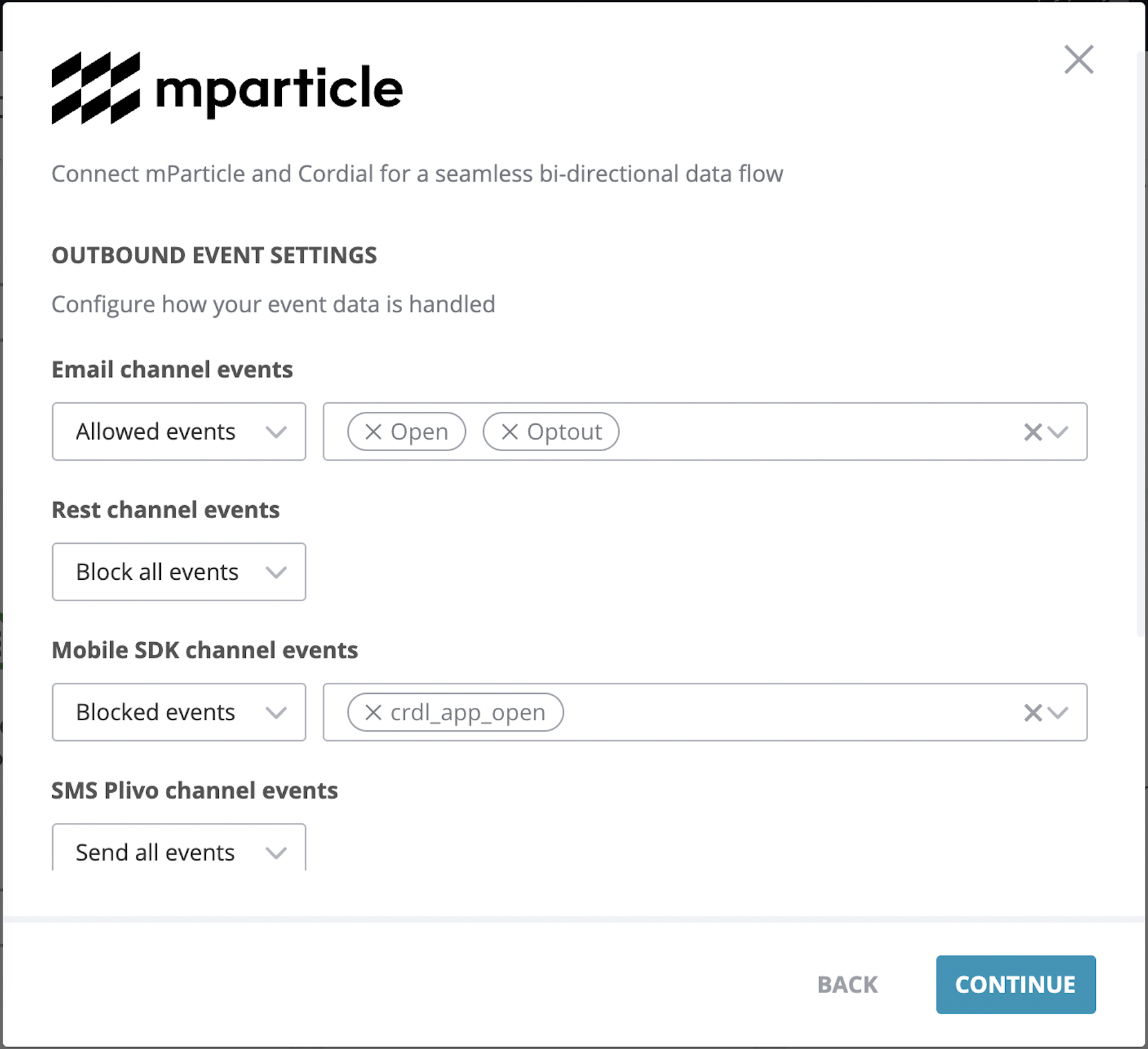 It is possible to select which events are sent from Cordial to mParticle. The following groups of events are available:
Channel events: predefined in Cordial events associated with a channel. Every channel has its own set of events. Each channel has a predefined set of events, for example, for email it is always Sent, Open, Click, Optout, Bounce.
Custom events: events custom for an account. As soon as a new custom event is sent it appears in the list of available dropdown items.
System events: predefined in Cordial events not associated with any channel.