Overview
Message reports allow you to view detailed data about messages sent from Cordial. In addition to the Message Reports page in Analytics, reports are also available on individual message performance pages for both batch messages and automated messages.
Create a Message Report
To generate message reports, navigate to Analytics › Message Reports.
The default view shows data for all messages over the past 7 days.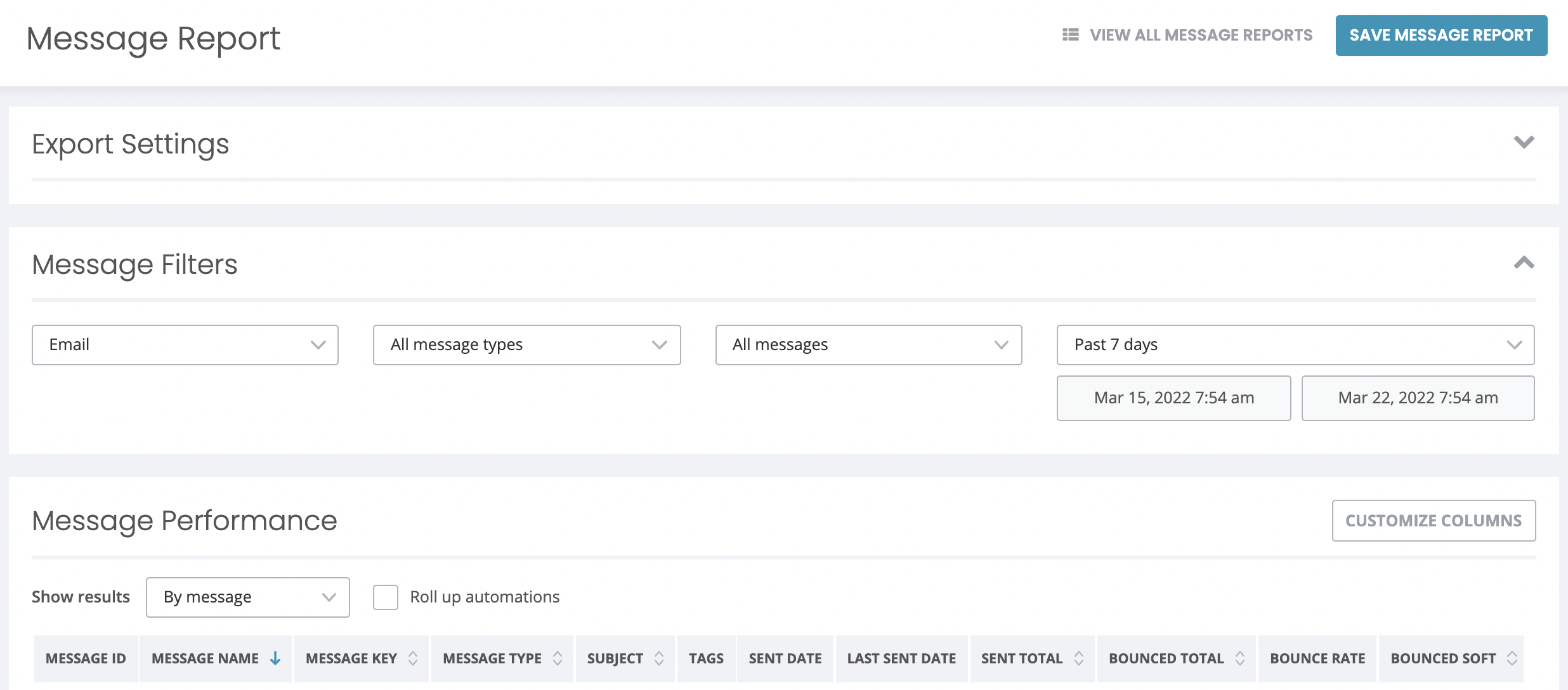 You can filter the view by:
Message Channel
Message type

All messages
Automation Templates
Batch messages

Message name
Message tag(s)

All selected tags
Any selected tags

Date

Past 7 days
Past 30 days
Past 90 days
Custom date range

Show results

By message
By message type
As a total

Roll up automations
Data columns display:
Message ID
Message name
Message key
Message type
Subject
Tags (upon file export)
Sent Date
Last sent date
Sent Total
Bounced Total
Bounce Rate
Bounced Soft
Bounced Hard
Delivered total
Delivered rate
Opens Total
Opens Unique
Open Rate
Opens Total (adjusted)
Opens Unique (adjusted)
Open Rate (adjusted)
Clicks Total
Clicks Unique
Click Rate
CTOR (click to open rate)
Complaints Total
Complaint Rate
Opt Outs total
Opt Out rate
Revenue
Total Purchases
AOV
Total Purchases Indirect
AOV Indirect
Total Revenue
Total Purchases
Total AOV
The data columns displayed can be customized with the Customize Columns button on the Create Message Report page. This selection will affect what is visible in the UI and will be reflected in the export. Column defaults are determined by which channel is selected; however, column settings are saved with the report for easy replication.
Export Message Reports
To export message reports to a CSV file, set up your filters and expand the Export Settings section above the filters. You will have options to name the export job, name the export file name, include the header row, include totals row, compress the file, split the file, select the destination, and choose the export file's schedule. The export will reflect the filters, columns, and settings configured in the message report.

If downloading the report locally, the Jobs Widget will expand to show the export job status. Click View all jobs from the expanded Jobs Widget window to view your export request listed as the first entry in the jobs table.
Depending on the file size and number of concurrently requested jobs, the job status may be Pending or Processing. Refresh the jobs page to view the latest status update.
When the job status changes to Done, hover the arrow next to the job ID and download the file locally.
In the next article learn about Event Data Reports.